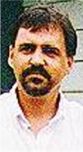 October 26, 1960 – January 8, 2004
Jeffrey L. Wilson, a native of Orange Grove, Texas, died January 8, 2004, after heart surgery due to complications related to congestive heart failure and diabetes. Jeff was 43.
Born October 26, 1960, Jeff grew up in Orange Grove, then moved to La Porte in 1995. He worked in the grocery and food industries for many years. In the last few years, he was hospitalized often, but he always maintained good spirits and was loved for his kindness.
He was always very supportive of his life partner, Wally Grimes, being there through the illness and then death of Wally's mother. He was an enthusiastic supporter in the couple's latest venture, MicroPCBuilder.com.
Jeff's ashes were scattered at Seabreeze Park (near Sylvan Beach in La Porte) on January 12, 2004. As part of a memorial service for him on January 24, nine balloons were released into the air at Seabreeze. (Jeff's favorite number was 9.)
His family requests that anyone wishing to make a donation in his name do so to the American Heart Association.
Jeff is survived by his life partner and soul mate of 9 years, Wally Grimes; his mother, Bonnie Wilson; his second mother, Mary Smith; his sister, Dorothy Skrobarczyk; several nieces and nephews; and some very good friends. He was well loved and will be missed by many.
| | | | |
| --- | --- | --- | --- |
| | Jeff in 2001 | Jeff, Wally, & Rita | |

Do not stand on my grave and weep;
I am not there. I do not sleep.

I am a thousand winds that blow.
I am the diamond's glint on snow.
I am the sunlight on ripened grain.
I am the gentle autumn's rain.
When you awaken in the morning's hush,
I am the swift uplifting rush of quiet birds in circled flight.
I am the soft stars that shine at night.
Do not stand at my grave and cry;
I am not there. I did not die.
—anonymous
Many Winters
by Nancy Wood
All my life is a dance.

When I was young and feeling the earth,
My steps were quick and easy. The beat of the earth was so loud
That my drum was silent beside it.
All of my life rolled out from my feet
Like my land, which had no end as far as I could see.
The rhythm of my life was pure and free.
As I grew older my feet kept dancing so hard
That I wore a spot in the earth.
At the same time I made a hole in the sky.
I danced to the sun and the rain and the moon lifted me up
So that I could dance to the stars.
My head touched the clouds sometimes
And my feet danced deep in the earth,
So that I became the music I danced to everywhere.
It was the music I danced to everywhere.
It was the music of life.
Now my steps are slow and hard
And my body fails my spirit,
Yet my dance is still within me and
My song is the air I breathe.
My song insists that I keep dancing forever.
My song insists that I keep rhythm
With all of the earth and the sky.
My song insists that I will never die.