Winner of the 2013 Robinson Prize From the American Copy Editors Society

At the 2014 meeting of the American Copy Editors Society (ACES), I was honored by my peers with the 2013 Robinson Prize.
Here is how ACES describes the prize:
Nominees are evaluated on a combination of elements, which can include editing, design, mentoring and training, fostering a sense of teamwork and pride among colleagues, and anything else that furthers the craft of professional editing.
"This award isn't designed to applaud the best speller or the best grammarian," says ACES President Teresa Schmedding, who helped establish the award in 2005. "Being a good wordsmith isn't enough. Today's copy editors need to be skilled in conflict resolution, show excellent judgment, demonstrate initiative and be able to find creative solutions to help their publications succeed in this era filled with increased competition."
The prize, first awarded in 2006, is named for Pam Robinson, who helped found ACES in 1997 and served as the society's first president. One of her goals was to make copy editors more visible and to encourage them to take on a more constructive role.
Thank you, ACES!
Copyediting-L: The Editor's Best Friend

I'm excited to say that I have been chosen as one of the co-owners of my favorite email list, Copyediting-L (aka CE-L), and its offshoot, Copyediting-Off-List-L (CEL-O), where editor types can chat about non-editing-related stuff. Bill Blinn and Jane Lyle, the lists' owners for a very long time, set a great example in how to keep a high-traffic email list on topic but also how to nurture the kindness of listmates. If I and my fellow list owner, John Renish, can do at least half as good a job as Bill and Jane did, then CE-L will remain the copyeditor's best work friend.
Here is how CE-L describes itself:
Copyediting-L is a list for copy editors and other defenders of the English language who want to discuss anything related to editing: sticky style issues; philosophy of editing; newspaper, technical, and other specialized editing; reference books; client relations; Internet resources; electronic editing and software; freelance issues; and so on.
CE-L is my favorite work tool, a source of project and client referrals, a place where I know everyone else understands exactly how I feel and exactly what I mean. I've made a lot of friends there and learned a lot of things that have been helpful in my career. Please come check out the list. We'd love to learn from you.
Medicine's Michelangelo:
The Life & Art of Frank H. Netter, MD
Favorite New Book That I Copyedited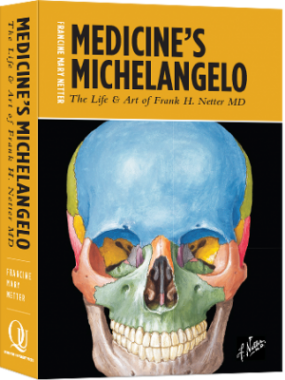 Finally! Now I can tell everyone about a wonderful book I was honored to copyedit: Medicine's Michelangelo: The Life & Art of Frank H. Netter, MD. It will be in print in October 2013.
If you've ever looked up medical illustrations so you could learn more about the human body, chances are good that many of the illustrations you saw were created by Frank Netter. His daughter Francine has done a spectacular job of pulling the reader into Frank Netter's life. I had always admired him just because of the beauty of his art, but now I admire him even more.